Product Introduction:
The PECVD rotary tube furnace system is suitable for surface film deposition of powder materials. The system consists of a high-power RF power supply (500W, 13.56MHz), a vacuum system, and a rotary tube furnace. Utilize plasma characteristics to control or influence gas phase reactions and chemical reaction processes on material surfaces, and deposit thin films at appropriate temperatures. PECVD deposited thin films have good electrical properties, good substrate adhesion, and good step coverage, which make them widely used in fields such as large-scale integrated circuits, optoelectronic devices, MEMS, and so on. It belongs to a type of PECVD device.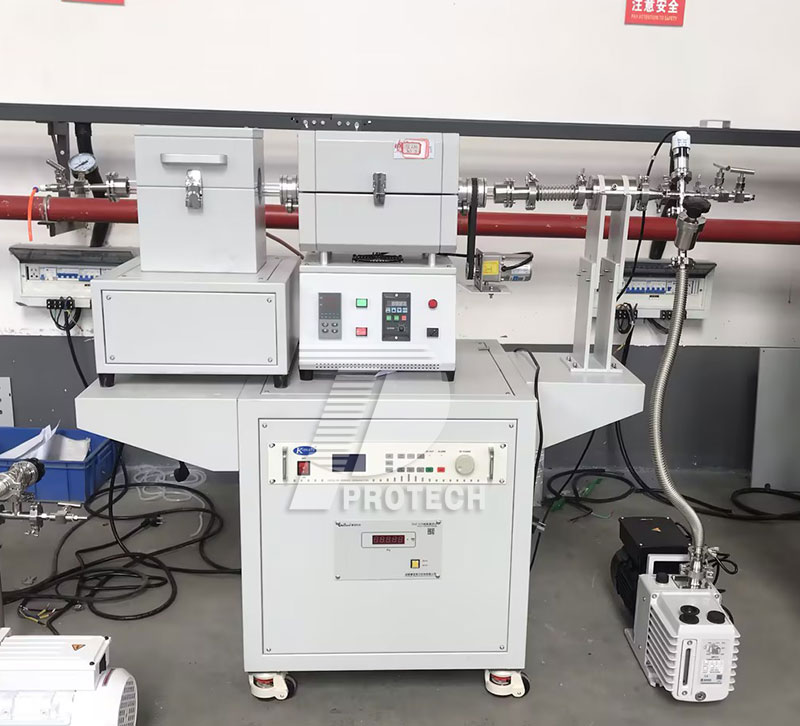 Real shot of PECVD RF rotary tube furnace
Product advantages:
1. PECVD has the advantages of low basic temperature, fast deposition rate, good film quality, fewer pinholes, and less cracking;
2. In the PECVD process, due to the impact of high-speed electrons in the plasma on neutral reaction gas molecules, neutral reaction gas molecules will become fragments or be in an activated state, which is prone to reactions;
3. By utilizing radio frequency and other means, gases containing atoms composed of thin films can form a plasma locally, which has strong chemical activity and is prone to reactions, resulting in the deposition of the desired thin film on the substrate;
4. The vacuum system consists of a rotary vane vacuum and a digital vacuum gauge, with a cold limit vacuum degree of up to 10Pa;
5. Adopting quick connect flange sealing, easy and fast loading and unloading;
6. The heating area adopts a single temperature zone with a heating zone of 200mm, which is easy to operate, reliable in sealing, and has high comprehensive performance indicators.
7. The furnace tube adopts customized variable diameter furnace tube, with a quartz feeding table inside the tube wall, allowing the material to be heated more fully. The furnace tube rotates at 360 ℃ and the rotation speed is adjustable.
8. The temperature control system adopts PID intelligent program for temperature control, and can set multiple temperature rise and fall programs.
9. The flange is equipped with an inlet and outlet cyclone adapter, which can introduce inert protective gases such as nitrogen and argon, and can be used in atmospheric environments.
10. Safety protection, with over temperature protection function. When the temperature exceeds the allowable setting value, the automatic alarm protection function ensures safe and reliable operation.
13. Our company has the ability to independently develop, design, produce, and process our machines. We provide lifelong parts replacement and upgrade services.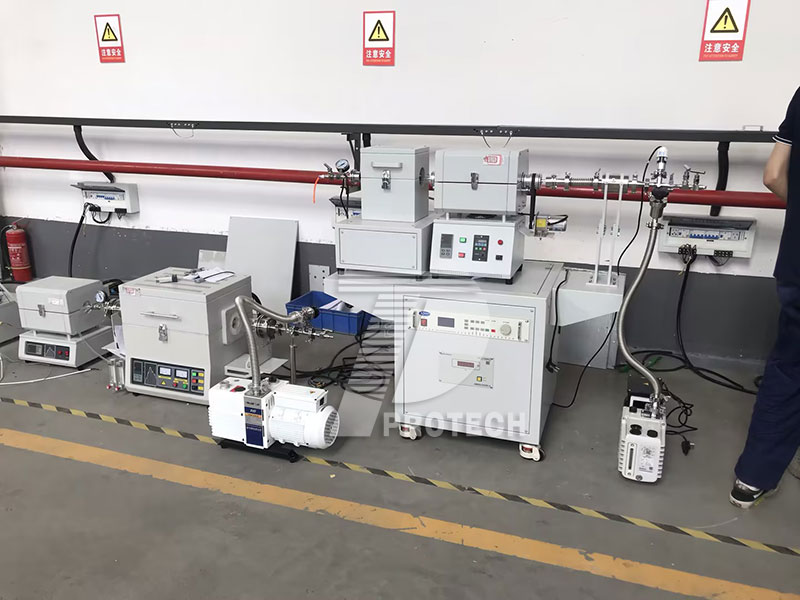 Real shot of PECVD RF rotary tube furnace

Technical parameters:
Product name

PE rotary tube furnace

Product model

PT-TX1100-S50LK1

Furnace material

The furnace adopts alumina polycrystalline fibers

Maximum temperature

1600℃

Furnace tube size

Both ends have a diameter of approximately Φ 30mm, middle size Φ 50mm total length approximately 1200mm

Heating zone

200mm

Furnace tube material

Quartz furnace tube

Working temperature

≤1000℃

Maximum temperature

1100℃

Heating element

Alloy heating wire

Temperature control accuracy

±1℃

Heating rate

0-20 ℃/min, recommended 10 ℃/min, adjustable according to experimental process

Temperature testing element

K-type thermocouple

Temperature control system

Adopting intelligent multi-stage PID programmable control
The temperature control system adopts artificial intelligence regulation technology, with PID regulation and self tuning functions, and can program multiple temperature rise and fall programs;
1. Adopting PID method to adjust and control temperature, multiple temperature rise and fall programs can be set
2. Temperature control accuracy ± 1 º C
3. Equipped with over temperature protection and couple breaking protection. When over temperature or couple breaking occurs, the heating circuit of the electric furnace will automatically cut off
4. The instrument has the function of temperature self-tuning

Sealing method

The sealing method using magnetic fluid and vacuum flange provides better sealing effect

Rotation rate

15rpm/min adjustable

Rotating structure

Rotating method, the furnace tube can rotate at 360 ℃, and the furnace body can tilt

Working voltage

AC 220v 50Hz

Heating power

2KW

Vacuum system

1. Adopting DRV-10 rotary vane vacuum pump, the cold state limit vacuum degree can reach 10Pa, and the vacuum pump includes a dust filter
2. KF quick connect, stainless steel corrugated pipe, manual baffle valve and flange, connected to vacuum pump;
3. Digital vacuum gauge display

Plasma power supply system

Power range 0-500W (continuously adjustable)
Operating frequency 13.56MHZ+0.005%
Working mode:Continuous output
RF output impedance interface N-type, female (50 Ω)
Power stability ≤ 2W
Maximum reflected power 70W
Power protection settings include DC overcurrent protection, amplifier over temperature protection, and reflected power protection
Supply voltage/frequency single-phase AC (187V-253V) 50-60HZ
Cooling method: air cooling

Provide relevant accessories

Lifetime warranty for crucible hooks, high-temperature gloves, thermocouples, customized furnace plugs, manuals, warranty cards, etc

After sales service

12 month warranty, lifetime warranty (free accessories such as heating elements and furnace tubes are not included in the warranty scope)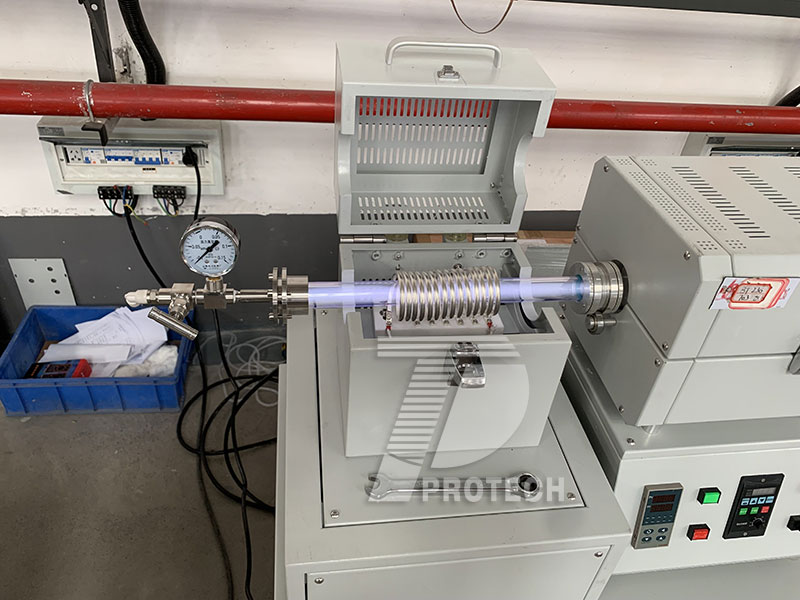 The RF System of PECVD RF Rotating Tube Furnace
Transaction process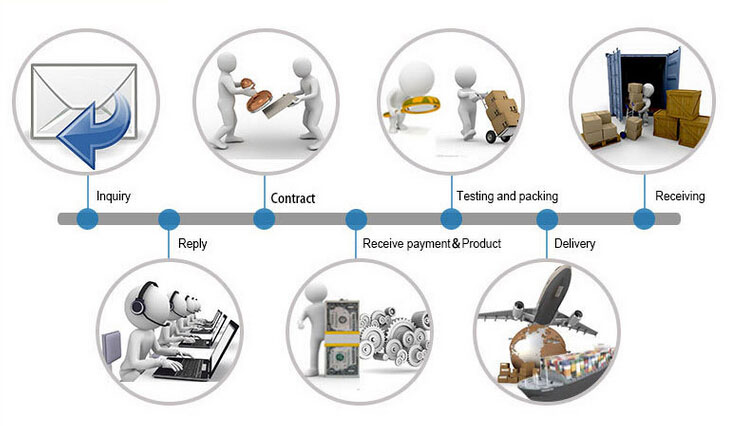 After-sales Service
1.We provide one year warranty for our equipment (Except the quick-wear part),Equipment damage or malfunction during the guarantee period due to equipment quality reasons, all be free maintenance.After the warranty expires, still offer lifetime and high quality service.
2.In case of failure in the process of equipment used, our company will make a deal as soon as possible, to ensure the normal operation of equipment.
3.Our company provide free equipment operation training and simple troubleshooting and maintenance training.
4.My company's technical staff can provide door-to-door service (product installation, debugging, maintenance, technical advice and instructions, etc.).
5.Our company provides transport services, packaging are carried out in accordance with the safety standard packing.Random complete technical data (user manual, maintenance manuals, relevant materials and accessories, random tools, etc.).
6.All the equipment has the CE certificate.
 Contact US