Power Supply
AC 220 V, 50/60 Hz, 300W (110V avaialble upon request)
Structure
Heavy duty Aluminum alloy
Controller
6" color LCD touch screen control panel
program to control the Moving Speed of the diamond wire, feeding speed of the sample stage, the slicing thickness and coolant pump operation.
Cutting speed
High cutting speed :1~35mm/min, Low cutting speed :0~1mm/min
Diamond wire moving speed
0 - 4 meter/second
Diamond wire
Ø 0.28mm x 65m Length
Z and Y Axis Max. Traveling Distance
300mm (±0.01mm accuracy)
Cutting Area
Max. cutting dimensions: Ø300mm×300mm
Wire Tension System
Built in pneumatic valves can easily adjust the tension of cutting wire. (air pump with >20 PSI pressure is required , but not included)
Sample Stage
The sample stage can move in the X-axis and rotate towards two directions (clockwise and counter-clockwise) for precision orientation.
Cooling System
One Coolant tank and two small immersion pumps are included for cooling and lubricating diamond wire ( only use anti-rust liquid and oil as coolant, never use water )
Overall Dimension£¨L×W×H£©
Wire saw: 1100mm×892mm×1700mm
Controller: 520mm x 400mm x 250mm
Shipping Weight & Dimension
995 lbs
56''x45''x70''
Warranty
Two years limited, not including diamond wire and rusted parts
Certificate
CE certified
Application Notes

An air compressor is necessary for operating the STX-1202 Wire Saw, please order from the relate product below.
The flow rate of coolent is adjustable by the valve in the blue feeding tubing. Please adjust it properly to improving cutting performance.
Please use correct cutting fluid. Don't use tap water or any other fluid would cause corrosion of machine parts.
Must clean the machine after each use.
STANDARD PACKAGE
| | |
| --- | --- |
| Item No. | Description |
| 1 | screw-drivers 1set |
| 2 | auto-tensed wheel 4pcs (2 has been installed on the machine) |
| 3 | power cable 1pcs |
| 4 | spool handle 1pcs |
| 5 | hex-angle screw 4pcs |
| 6 | leading wheel 4pcs (2 have been installed on the machine) |
| 7 | spanner for wire-installer 1pcs |
| 8 | triangle block 1pcs |
| 9 | water splash guard plate 2pcs |
| 10 | Water splash guard cover for spooler 1pcs |
| 11 | 65m cutting wire (0.28mm) 4pcs (1 on the machine) |
| 12 | wire-installer 1pcs |
| 13 | coolant circulating tank /pump 2pcs |
 Transaction process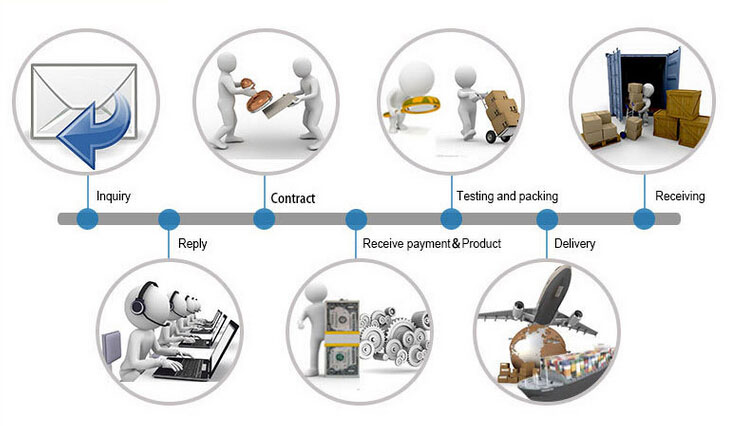 After-sales Service
1.We provide one year warranty for our equipment (Except the quick-wear part),Equipment damage or malfunction during the guarantee period due to equipment quality reasons, all be free maintenance.After the warranty expires, still offer lifetime and high quality service.
2.In case of failure in the process of equipment used, our company will make a deal as soon as possible, to ensure the normal operation of equipment.
3.Our company provide free equipment operation training and simple troubleshooting and maintenance training.
4.My company's technical staff can provide door-to-door service (product installation, debugging, maintenance, technical advice and instructions, etc.).
5.Our company provides transport services, packaging are carried out in accordance with the safety standard packing.Random complete technical data (user manual, maintenance manuals, relevant materials and accessories, random tools, etc.).
6.All the equipment has the CE certificate.
 Contact US