Voltage and Power

AC 110V/220V switchable for worldwide usage
70W Max. Power consuming

Speed range
Variable 0-600 rpm with LED digital display
Cutting Width
The cutting width of the slice is controllable from 1mm ~ 24mm by adjusting the LCD digital micrometer. The LCD micrometer is water-proof with resolution of 0.001 mm and accuracy of +/-0.003 mm.
Cutting Depth
55mm max. cutting depth (when using 25mm dia. blade flange) Please click the pic below to know the cutting depth
Diamond Blades

Three blades are included for cutting various materials
SiC blade: 4" x 0.35 mm x 0.5" arbor for cutting nonferrous metal materials, such as super-alloys.
Al2O3 blade: 4" x 0.35 mm x 0.5" arbor for cutting ferrous metal materials, such as iron and steel.
Full sintered diamond blade: 4" x 0.35 mm x 0.5" arbor for cutting crystal, ceramic, and plastic materials

Sample holder & Mini-vise

Two angle adjustable sample holder is included, please click picture below for the details
One Mini-vise is included, which can be easily adapted onto the sample holder to clamp rod shape specimens with diameter upto 1'' max.

Package dimensions
19"(L) x 15"(W) x 15"(H)
Shipping weight
32 lbs
Warranty
Two years limited with life time support (not including rusted parts due to inadequate storage conditions)
Certification
CE Certified
Application Notes

Must use anti-corrosion coolant during cutting to avoid rusting the lead screw. Please never use water as coolant during cutting.
Always clean machine, especially the lead screw by WD40 lubricant after each use.
P/N
Descriptions
Qty
EQ-SYJ-150
EQ-SYJ-150 Low Speed Diamond Saw
1set
SYJ150-23
Mini-vise (1 1/4" x 3/4" Jaw Width; 1" Max. Jaw Opening)
1
SYJ150-02
Adjustable Balance Weight with Shaft at Back Side ($80.00/ea)
1
SYJ150-03
Balance Weight at Front Side ($50.00/ea)
1
SYJ150-04
Goniometric Specimen Holder ($200.00/ea)
1
SYJ150-05
One Pair of Blade Clams, 35 mm dia. (1.4") ($40.00/pair)
1
SYJ150-06
One Pair of Blade Clams, 46 mm dia. (1.8") ($50.00/pair)
1
SYJ150-07
One Pair of Blade Clams, 62 mm dia. (2.45") ($70.00/pair)
1
SYJ150-08
Graphite Plate ($8.00/each)
1set
SYJ150-09
Aluminum Plate ($5.00/ each)
1set
SYJ150-10
Wax Rod for Mounting Sample ($10.00/ set)
1
SYJ150-11
One Fuse, Two M4 Screws
1set
SYJ150-12
AC Power Cord
SYJ150-13
Screw Driver
1set
SYJ150-14
O-ring of Driving Motor ($10.00/set)
1
SYJ150-15
A bag of 150-Lube Cutting Lubricant, 1 Oz/bag ($5.00/ bag)
1
SYJ150-16
Lubricant Tub
1
SYJ150-17
Collection Net
1
SYJ150-18
4" x 0.35mm x 0.5" Arbor Full Sintered Diamond Blade
1
SYJ150-19
4" x 0.35mm x 0.5" Arbor SiC Blade for Cutting Non-ferrous Metals
1
SYJ150-20
4" x 0.35mm x 0.5" Arbor Al2O3 Blade for Cutting Ferrous Metals
1
SYJ150-21
4" x 0.35mm x 0.5" Arbor Al2O3 Blade for Cutting Ferrous Metals
1
OPTIONAL ACCESSORY :
SYJ150-22
90 Degree Cross Vise ($129.00/ea)
Optional
SYJ150-24
Blade Spacer for Dicing Multiple Slices in parallel.10 mm in Thickness; 60 mm in Diameter($30.00/ea)



Optional
 Transaction process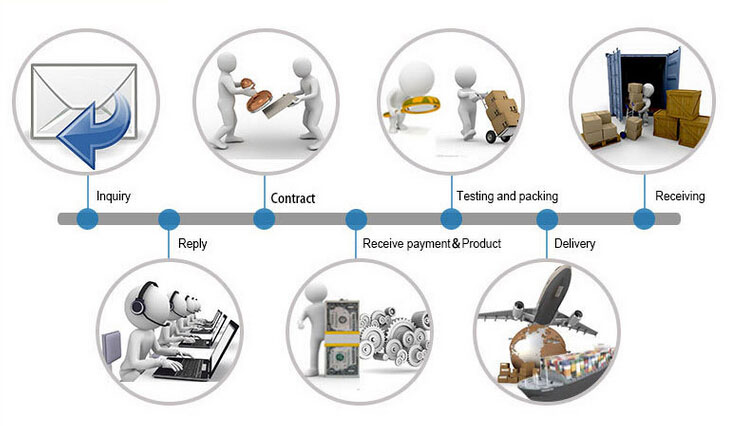 After-sales Service
1.We provide one year warranty for our equipment (Except the quick-wear part),Equipment damage or malfunction during the guarantee period due to equipment quality reasons, all be free maintenance.After the warranty expires, still offer lifetime and high quality service.
2.In case of failure in the process of equipment used, our company will make a deal as soon as possible, to ensure the normal operation of equipment.
3.Our company provide free equipment operation training and simple troubleshooting and maintenance training.
4.My company's technical staff can provide door-to-door service (product installation, debugging, maintenance, technical advice and instructions, etc.).
5.Our company provides transport services, packaging are carried out in accordance with the safety standard packing.Random complete technical data (user manual, maintenance manuals, relevant materials and accessories, random tools, etc.).
6.All the equipment has the CE certificate.
 Contact US