Features
1. PID automatic control.
2. K, J, S, B thermocouple.
3. 30 programmable segments for precise control of heating rate, cooling rate and dwell time.
4. Over temperature protection and alarm allows for operation without attendant(s).
5. +/- 1 ºC temperature accuracy.
6. 1- 5VDC or 0- 20mA output selectable.
7. Met certified.
Specification:
Control mode
On-off control mode
AI PID Control with Auto Tuning(AT)
Measurement
accuracy

0.25%FS ± 0.1°C

Resolution

0.01°C

Response time

≤0.3s ( when digital filter parameter dL=0)

Input

Thermocouple: K, S, R, T, E, J, N,WRe3~WRe25,WRe5~WRe26 etc

Resistance temperature detector: Pt100, Cu50

Linear voltage:0~5V,1~5V,0~1V,0~100Mv, 0~20mV, 0~500Mv etc

Linear Current:0~10Ma,0~20mA,4~20mA

Input range
Thermocouple: K(-100~1300°C), S(0~1700°C), R(0~1700°C),
T(-200~+390°C), E(0~1000°C), J(0~1200°C),B(600~1800°C),
N(0~1300°C)

Resistance temperature detector:Pt100(-200~+800°C) , Cu50(-50~+150°C)

Output
(modularized)

Relay output (NO+NC): 250VAC/2A or 30VDC/1A

TRIAC Switch Output

TRIAC zero Crossing trigger output

SSR Voltage output: 12VDC/30mA (used to drive SSR)

Linear current output: 0~20mA, 4~20mA (The output voltage of X module ≥10.5V;
and that of X3 module ≥10.5V.)
General specifications

Voltage: support AC85-265V,50/60Hz or DC24V.

Power consumption: ≤3W

Electromagnetic compatibility (EMC) : ±4KV/5KHz according to IEC61000-4-4;
4KV according to IEC61000-4-5.

Operating Ambient : temperature -10~60°C; humidity ≤90%RH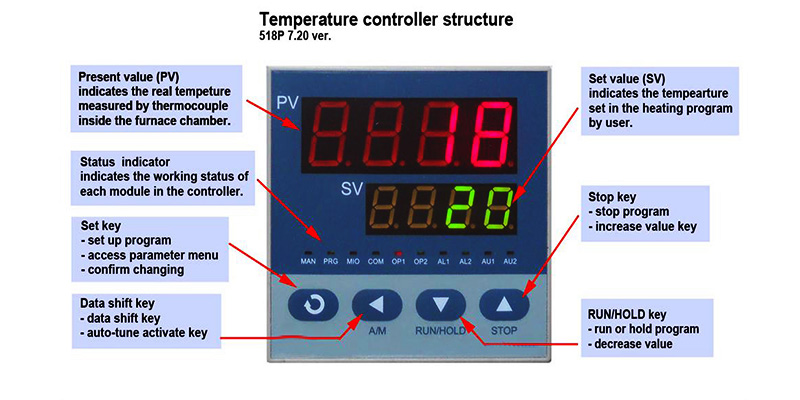 The controller may be operated by PC by installing a control module and software included
There is a slight chance, the controller malfunction, it may go beyond the setting temp. So you can have another controller in series as back up. Both controllers connect to the same thermocouple, either one has gone to alarm status will shut down the AC contactor (cut the power).
If you order the PC control module together with the furnace, we will install and test it before shipping. We recommend you to order a computer laptop (please select the "computerized tool" in the options bar) from us to avoid software installation problems.
 Transaction process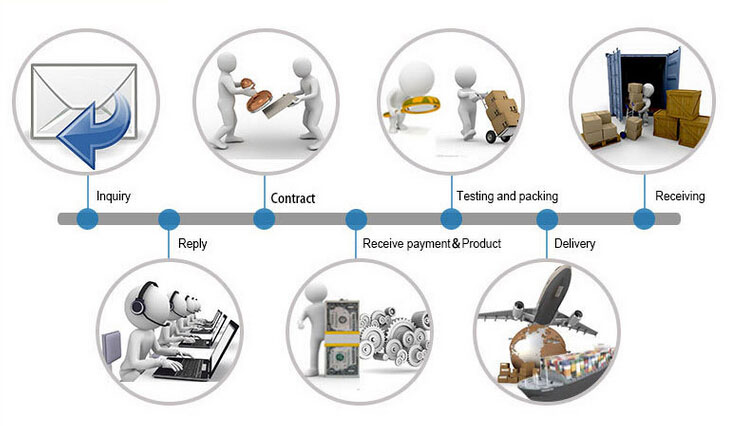 After-sales Service
1.We provide one year warranty for our equipment (Except the quick-wear part),Equipment damage or malfunction during the guarantee period due to equipment quality reasons, all be free maintenance.After the warranty expires, still offer lifetime and high quality service.
2.In case of failure in the process of equipment used, our company will make a deal as soon as possible, to ensure the normal operation of equipment.
3.Our company provide free equipment operation training and simple troubleshooting and maintenance training.
4.My company's technical staff can provide door-to-door service (product installation, debugging, maintenance, technical advice and instructions, etc.).
5.Our company provides transport services, packaging are carried out in accordance with the safety standard packing.Random complete technical data (user manual, maintenance manuals, relevant materials and accessories, random tools, etc.).
6.All the equipment has the CE certificate.
 Contact US