SYD-0722 Centrifugation Asphalt Mixture Extractor is used for asphalt content testing for asphalt with mixing materials (centrifugation separation) and road surfaces by heating paving to assess quality of mixing and product.
I.Summary of SYD-0722 Centrifugation Asphalt Mixture Extractor
SYD-0722 Centrifugation Asphalt Mixture Extractor is designed and developed as per T0722
"Bituminous Mixture Bitumen Content Test (Centrifugal Separation Methods)"
in the Industry Standard JTJ052 Specification and Test Methods of Bitumen
and Bituminous Mixture for Highway Engineering.
II.Main Technical Features
1.More high quality aluminum alloy container after polishing forming, with stainless steel centrifugal shaft and casing, make the instrument very high surface finish, never rust
2.Used precision machining technology, the sample container centrifugal separator processing precision, after balancing adjustment, stable running balance, tar separation speed
3.Timing instrument with digital display, intuitive is strong, and start with multi-stage, ensure smooth test
4.Instruments are fast separation .It is easy to operate stable performance light weight low noise and easy maintenance, performance is better than similar imported equipment.
III.The main technical parameters and indicators
Rated speed:3000r/min
Working power supply:AC(220±10%)V,50Hz
Sample volume:3000g
Timing option:40s、60s、80s、99s
Machine Power:550W
Environment temperature:-10℃~35℃
Relative humidity :≤85%
Total weight :45Kg
Boundary dimension:(1)Mainframe:365mm×400mm(Foundation*High) (2)Control cabinet:200mm×120mm×100mm(L*W*H)
Transaction process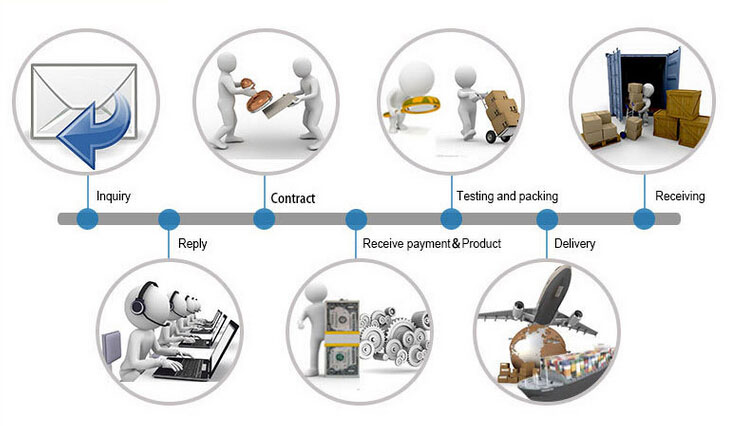 After-sales Service
1.We provide one year warranty for our equipment (Except the quick-wear part),Equipment damage or malfunction during the guarantee period due to equipment quality reasons, all be free maintenance.After the warranty expires, still offer lifetime and high quality service.
2.In case of failure in the process of equipment used, our company will make a deal as soon as possible, to ensure the normal operation of equipment.
3.Our company provide free equipment operation training and simple troubleshooting and maintenance training.
4.My company's technical staff can provide door-to-door service (product installation, debugging, maintenance, technical advice and instructions, etc.).
5.Our company provides transport services, packaging are carried out in accordance with the safety standard packing.Random complete technical data (user manual, maintenance manuals, relevant materials and accessories, random tools, etc.).
6.All the equipment has the CE certificate.
 Contact US