I.Summary
1.A tractor serves several purposes. satisfy the requirement of sample weighing with Surface-dry Method .Weight in water method .Wax-sealing method .Volumetric method.
2.Microcomputer controlled. Easy operation.
3.Removable structure.
4.High precision electronic balance.Large measuring range, high accuracy of measurement
5.Stainless Steel Materials.durable in use.
6.The work is smooth, low noise.Reduce the experimenter work intensity
7.Using natural marble mesa material.Very Handsome And Practical.
II.The main technical parameters and indicators
1.Refrigeration compressor power:1/4
2.The tank volume:83L
3.Power of the heater:1.3kW
4.Circulating water pump flow:10L/min
5.Biggest weighing electronic balance;15㎏
6.Water bath temperature control precision:(25±0.5)℃
7.Working supply : AC(220±10%)V,50Hz
8.Overall power consumption :Not more than 1600W
9.Boundary dimension :930mm*750mm*1150mm(L*W*H Contains the balance)
Transaction process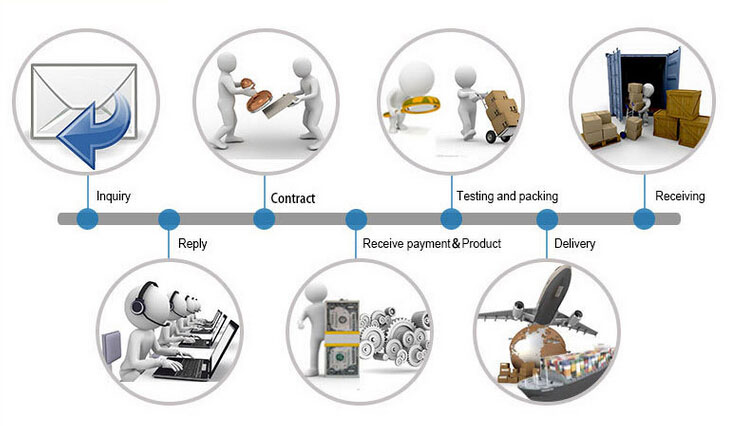 After-sales Service
1.We provide one year warranty for our equipment (Except the quick-wear part),Equipment damage or malfunction during the guarantee period due to equipment quality reasons, all be free maintenance.After the warranty expires, still offer lifetime and high quality service.
2.In case of failure in the process of equipment used, our company will make a deal as soon as possible, to ensure the normal operation of equipment.
3.Our company provide free equipment operation training and simple troubleshooting and maintenance training.
4.My company's technical staff can provide door-to-door service (product installation, debugging, maintenance, technical advice and instructions, etc.).
5.Our company provides transport services, packaging are carried out in accordance with the safety standard packing.Random complete technical data (user manual, maintenance manuals, relevant materials and accessories, random tools, etc.).
6.All the equipment has the CE certificate.
 Contact US