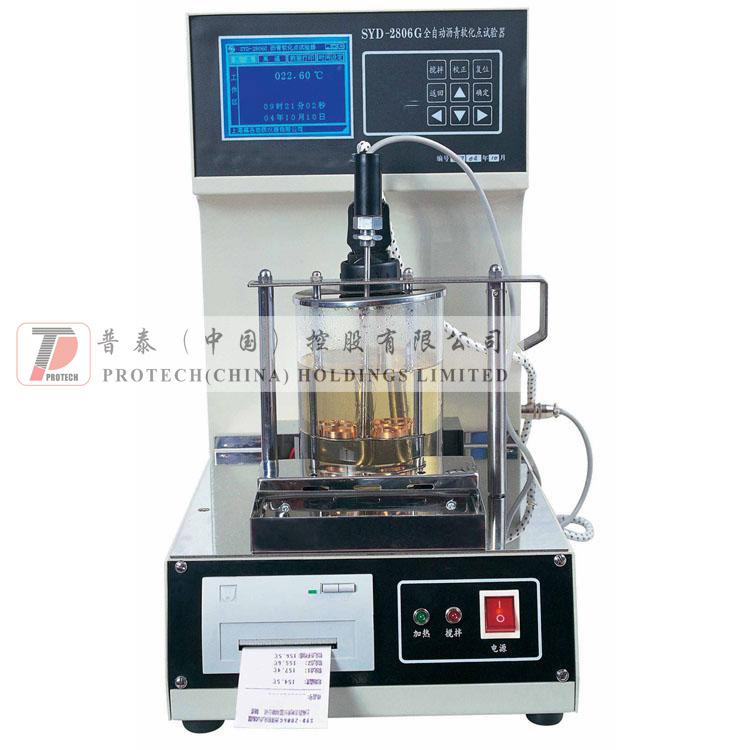 Automatic Asphalt Softening Point Tester
Model:SYD-2806G
Description:
Introduction:
I. Summary
The instrument is designed and made as per the National Standard of People's Republic of China GB/T4507 "Test Methods for Softening Point of Asphalt", and T0606 "Asphalt Softening Point Test (Ring and Ball Methods)" in the Industry Standard of People's Republic of China. It is suitable to determine the softening point of highway asphalt, coal pitch, liquid asphalt and other types of asphalt, etc. It is the best choice of asphalt manufacture companies, highway and bridge construction companies, colleges and universities, and scientific research institutes.

II.The main technical characteristics
1.The instrument is controlled by microcomputer.Automatic mixing linear heating, heating rate conforms to the requirements stipulated in the standard, automatic detection test results, test is displayed automatically and automatically print test results.
2.Beaker using high temperature resistant glass, such as locating ring of steel ball steel ball size is in line with the requirements of the standard.
3.This instrument for small table structure, adopts the LCD shows light touch the keyboard control, can test the two sample at the same time, easy to test, the result is reliable.
4.With the RS-232c computer communication interface, can realize the communication between with the computer.
5.The instrument highest water bath heating temperature for 160℃.
6.The instrument design manual test condition, meet the special needs of users.

III. Main technical specifications and parameters
 1. Power supply: AC 220V (-5%~+10%), 50 Hz;
 2. Measurement range:
  (1) For asphalt, the softening point of which is under 80 ℃, you can take distilled water as heating medium : +5 ℃~+80 ℃
(2) For asphalt, the softening point of which is over 80 ℃, you should take glycerin as heating medium. +32 ℃~+160 ℃
 3. Temperature resolution: 0.01 ℃
 4. Stirrer: the stirring speed can be adjusted continuously.
 5. Heating rate: it will be adjusted to 5.0±0.5 ℃/ min automatically after three minutes
 6. Test result: It uses the LCD to show it and the printer to print it.
 7. Heating power: 600 W
 8. Cubage of beaker: 1000 ml
9. Ambient temperature: The temperature should be less than 35 ℃ and keep stable. There should not have any air draft.
 10. Relative humidity: ≤85%
 11. Total power consumption: ≤700 W
12.Dimension:400*300*490(L*W*H)
Transaction process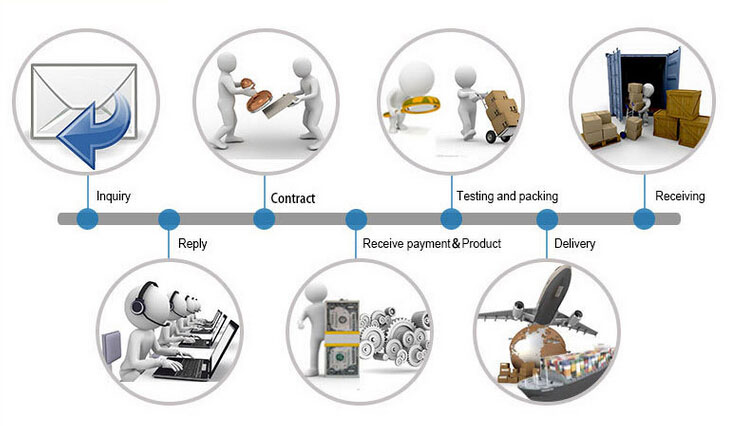 After-sales Service
1.We provide one year warranty for our equipment (Except the quick-wear part),Equipment damage or malfunction during the guarantee period due to equipment quality reasons, all be free maintenance.After the warranty expires, still offer lifetime and high quality service.
2.In case of failure in the process of equipment used, our company will make a deal as soon as possible, to ensure the normal operation of equipment.
3.Our company provide free equipment operation training and simple troubleshooting and maintenance training.
4.My company's technical staff can provide door-to-door service (product installation, debugging, maintenance, technical advice and instructions, etc.).
5.Our company provides transport services, packaging are carried out in accordance with the safety standard packing.Random complete technical data (user manual, maintenance manuals, relevant materials and accessories, random tools, etc.).
6.All the equipment has the CE certificate.
 Contact US