I.Summary
SYD-0719 Automatic Wheel Rutting Tester is designed and made as per T0719 2011 in the Industry Standard JTG E20-2011 Specification and Test Methods of Bitumen and Bituminous Mixture for High Engineering .
It is mainly used to determine the resistance to rutting of bituminous mixture at high temperature(Flooding or not flooding).
It can also be used for high temperature stability of asphalt mixture test on site.
II. The main technical characteristics
1.Temperature control using PWM mode control, simultaneous control: (1)The water temperature of flooding wheel rutting test water tank .(2)The temperature of environment of incubators .
2.Constant temperature box adopts outer circulation of heating, homogeneous temperature field, high temperature stability, ensure no overshoot
3.When test also showed time and displacement of time and temperature change curve, for studying the characteristics of asphalt mixture rut based on scientific research units for practice.
4.Using absolute temperature sensor to collect temperature, and long time test no temperature drift, put an end to the general thermal corner of the battery temperature sensor temperature drift for a long time the influence of the experimental data)
5.Mechanical structure with wheel dynamic way, the same as the foreign product mechanical structure, test data closer to the actual situation
6.This instrument is cu of single wheel rutting test instrument, can do the test at the same time of soaking or non immersion rutting test.
III. Technical parameters
1.Test mold size: 300mm*300mm*(30~200)mm(Grinding wheel molding ;L*W*T)
300mm*150mm*50mm(Site cutting L*W*T)
2.Working mode:Crank connecting rod drive test-bed movement
3.Rubber hardness:International standard hardness of 78 +/-2 when it's60℃
4.Test vehicle moving distance: 230±10mm;
5.Rolling speed of roller: 42±1 times/min (one way);
6.Loading device:(0.7 MPa~1.3MPa)+/-0.05Mpa when the contract pressure is 60℃, 7.Measurement range for displacement: 0~30 mm;
8.Measurement accuracy for displacement: less than 0.01 mm
9.Test duration: 60~240min The Standard test time is 60min
10.Temperature controlling range for constant temperature case: room temperature~80°C
11.Deformation measurement:Accuracy of 0.3%, minimum degree value of 0.005 mm
12.Testing temperature:45℃~85℃. Accuracy0.5℃
13.Operating environment :Temperature 0℃~50℃ Relative humidity:≤90%
14.Drive motor rated output:0.75kW,1450r/min;
15.Power supply:Three-phase four-wire system power 3.5KW The zero line, yellow green line for work
16.Dimension:1510mm*740mm*1460mm(L*W*H)
17.The total weight of the instrument;0.5t
Transaction process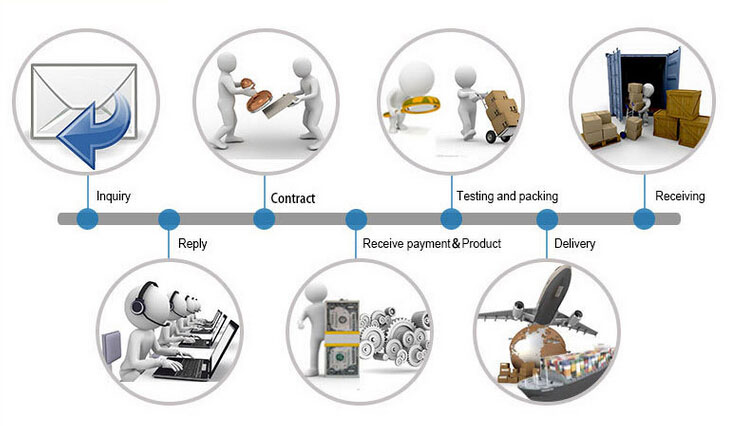 After-sales Service
1.We provide one year warranty for our equipment (Except the quick-wear part),Equipment damage or malfunction during the guarantee period due to equipment quality reasons, all be free maintenance.After the warranty expires, still offer lifetime and high quality service.
2.In case of failure in the process of equipment used, our company will make a deal as soon as possible, to ensure the normal operation of equipment.
3.Our company provide free equipment operation training and simple troubleshooting and maintenance training.
4.My company's technical staff can provide door-to-door service (product installation, debugging, maintenance, technical advice and instructions, etc.).
5.Our company provides transport services, packaging are carried out in accordance with the safety standard packing.Random complete technical data (user manual, maintenance manuals, relevant materials and accessories, random tools, etc.).
6.All the equipment has the CE certificate.
 Contact US