glass reactor
Model:GR-30L
Description: Reagents are set in the inner layer of double-layer glass reaction kettle, at the same time, vacuum can be taken out and mixing speed be adjusted. Interlayer can lead in refrigerating fluid, water and high temperature liquid to heat and cool the materials. It can be used in the experiment, middle-scale test, and production of chemistry, fine chemical engineering, biological pharmacy and synthesis of new materials.
Introduction of reaction kettle:
The products can be made into system devices with multi-purpose circulating water vacuum pump, diaphragm vacuum pump, low temperature circulating pump(vacuum), circulating cooler, constant temperature circulator, low temperature cooling liquid circulating pump and closed cooling and heating circulating equipment.
Characteristics of uses:
1,High borosilicate glass has good physical and chemical properties.
2,Can be used in wide temperature range from high temperature (300°C)to low temperature(-80°C).
3,Can work in constant pressure and vacuum, vacuum degree is below 0.095MPa in quiet situation.
4,Digital display of mixing speed, , frequency conversion, and constant speed mixing system, work steadily.
5,The sealing method and materials between mixer shaft ,PTFE mixing propeller (paddle),and ketttle cover are Know how of our company.
6,Corrosion resistant discharge valve is without dead space design.
7,The cooling or heating solution in the interlayer can be completely removed after reaction.
8,The whole structure is novelty, practical and beautiful.

Technical data:
Model

GR-10L

GR-20L

GR-30L

GR-50L

GR-80L

GR-100L

Power(W)

60

90

90

120

180

180

Stirring speed (r/min)

50~500

Max.torque(N·cm)

132

200

200

273

378

378

Material capacity(L)

10

30

30

50

80

100

Lnterlining cover capacity(L)

3

6

10

16

1

24

30

Power supply (V/Hz)

220/50
Model:
| | | | | | | |
| --- | --- | --- | --- | --- | --- | --- |
| Model | 10L | 20L | 30L | 50L | 80L | 100L |
| Power of feeding | 90W 1/3 | 90W 1/3 | 120W 1/3 | 120W 1/3 | 180W 1/3 | 180W |
| Voltage | 220V/50Hz | 220V/50Hz | 220V/50Hz | 220V/50Hz | 380V/50Hz | 380V |
| Speed | 40-800rpm | 40-800rpm | 40-800rpm | 40-800rpm | 40-800rpm | 40-800rpm |
| Power of heating | 3kw | 5kw | 6kw | 6kw | 8kw | 8kw |
Transaction process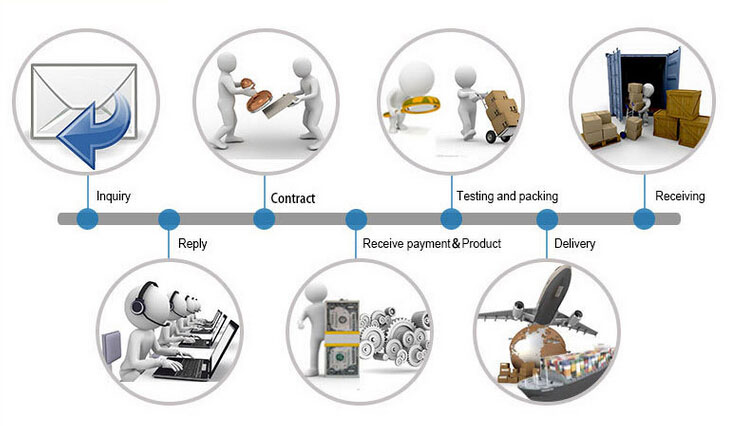 After-sales Service
1.We provide one year warranty for our equipment (Except the quick-wear part),Equipment damage or malfunction during the guarantee period due to equipment quality reasons, all be free maintenance.After the warranty expires, still offer lifetime and high quality service.
2.In case of failure in the process of equipment used, our company will make a deal as soon as possible, to ensure the normal operation of equipment.
3.Our company provide free equipment operation training and simple troubleshooting and maintenance training.
4.My company's technical staff can provide door-to-door service (product installation, debugging, maintenance, technical advice and instructions, etc.).
5.Our company provides transport services, packaging are carried out in accordance with the safety standard packing.Random complete technical data (user manual, maintenance manuals, relevant materials and accessories, random tools, etc.).
6.All the equipment has the CE certificate.
 Contact US