Product Introduction:
The PT-TX1000-H200LK3 atmosphere inclined rotary tube furnace consists of a heating system, vacuum system, control system, and gas supply system. It adopts dual temperature zones for independent control heating, with multiple temperature control systems for each zone, phase shift triggering, and thyristor control. The furnace body is a double shell air-cooled structure, with an upper opening type for convenient cooling and heat dissipation, as well as the replacement of furnace tubes, and has a tilting function. The furnace tube is made of 310S metal tube, with good sealing and corrosion resistance. Air inlet and outlet ports are reserved at specific locations, and a mechanical pressure gauge is equipped. It has forward and reverse rotation functions and adjustable speed. Install lifting plates internally to evenly heat the material. The furnace is made of alumina polycrystalline fiber material, heated by high-quality silicon carbon rods, arranged in a circular shape with a balanced temperature field, and equipped with an air cooling system between the double layer furnace shells. It belongs to a type of rotary tube furnace.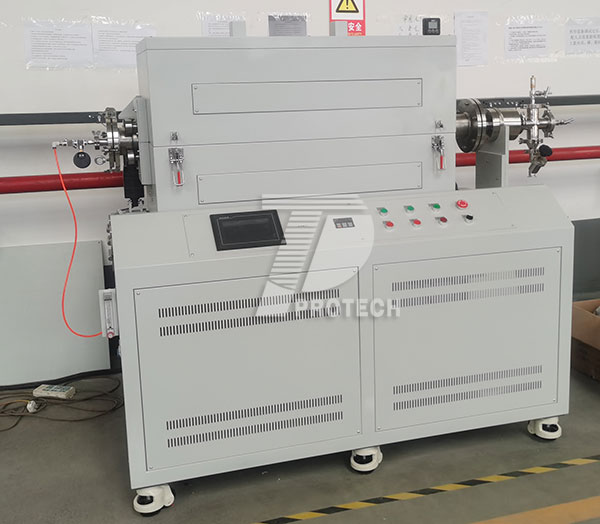 Actual photo of atmosphere inclined rotary tube furnace

Features:
1. Double layer shell, equipped with air cooling system, effectively preventing rust through electrostatic spraying.
2. Customized sealing flanges can achieve metal pipe sealing. Valves and mechanical pressure gauges are installed on the flanges, and the pressure inside the pipes can be observed in real-time through the mechanical pressure gauge.
3. Adopting PID controller, intelligent 30 segment programmable control, equipped with touch screen, sintering data can be recorded according to the set interval time and exported in Excel format.
4. Adding a stirring bar on the inner wall of the thick tube allows for even flipping of physical materials.

Detail Specification:
| | |
| --- | --- |
| Name | Atmosphere inclined rotary tube furnace |
| Model | PT-TX1000-H200LK3 |
| Double layered | shell structure, equipped with an air cooling system, effectively preventing rust through electrostatic spraying |
| Furnace tube material | 310S stainless steel material |
| Furnace tube size | outer diameter 80-200- outer diameter 80mm, total length of tube approximately 1400mm |
| Continuous working temperature | ≤ 900 ℃ |
| Maximum working temperature | 1000 ℃ |
| Air inlet and outlet | There is one air inlet on the sealing flange/one exhaust port on the sealing flange |
| Number of temperature zones | Dual temperature zones, each temperature zone is independently controlled, and there is no partition between temperature zones |
| Temperature zone length | Total length 800mm (400+400) |
| Ultra high temperature alarm | There is an ultra-high temperature alarm |
| Broken Couple Reminder | There is a disconnection prompt |
| Furnace material | High purity alumina refractory fiber |
| Heating rate | 0-10 ℃/min |
| Furnace door structure | Electric upward opening |
| heating element | High quality silicon carbon rod |
| Tiltable angle | 0-40 degrees (adjustable) |
| Furnace tube speed | 0-5 rpm (adjustable) |
| maintenance | One year limited warranty (consumables such as heating elements are not covered by the warranty) |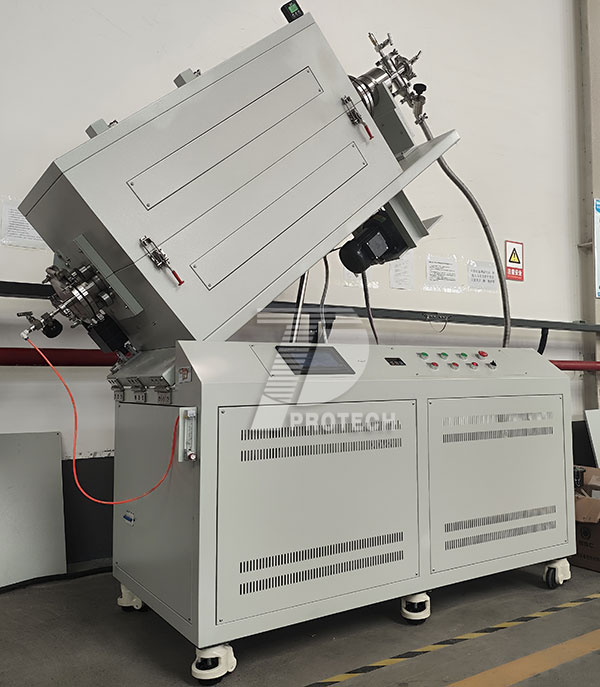 Actual photo of atmosphere inclined rotary tube furnace
Transaction process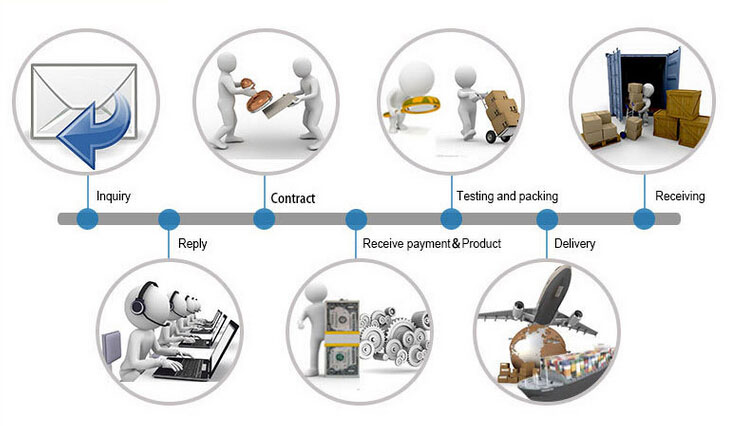 After-sales Service
1.We provide one year warranty for our equipment (Except the quick-wear part),Equipment damage or malfunction during the guarantee period due to equipment quality reasons, all be free maintenance.After the warranty expires, still offer lifetime and high quality service.
2.In case of failure in the process of equipment used, our company will make a deal as soon as possible, to ensure the normal operation of equipment.
3.Our company provide free equipment operation training and simple troubleshooting and maintenance training.
4.My company's technical staff can provide door-to-door service (product installation, debugging, maintenance, technical advice and instructions, etc.).
5.Our company provides transport services, packaging are carried out in accordance with the safety standard packing.Random complete technical data (user manual, maintenance manuals, relevant materials and accessories, random tools, etc.).
6.All the equipment has the CE certificate.
 Contact US