Product model:
PT-T1700-H80-X
Product Details:
Rotary tubular electric furnace
can meet different process experiments and production design and manufacture of heat treatment equipment, suitable for sintering of electronic ceramics and high temperature structural ceramics, precision annealing and microcrystallization of glass, precision annealing of crystals, ceramic glaze preparation, powder Sintering heat treatment for metallurgy, nano-material sintering, metal parts quenching, etc., is commonly used high-temperature equipment in scientific research institutions, universities, and industrial and mining enterprises.
Features:
1. Tilting rotary tube furnace, operated by touch screen, heated by silicon molybdenum rod, heating zone 400mm, can be vacuumed and ventilated, equipped with DRV-10 vacuum pump, exhaust gas scrubber is connected to the gas outlet, gas can be directly connected Scrubber
2. Equipped with two kinds of material furnace tubes, the low temperature section is equipped with variable-diameter quartz tubes 80-120-80mm, and 80mm diameter corundum tubes
3. The furnace body adopts an open design, with a slide rail at the bottom for easy opening
4. Tilt angle 0-15 degrees (adjustable), rotation speed 0-15 revolutions per minute
Product parameters:
Product name: Tilting rotary tube furnace
Product model: PT-T1700-H80-X
Controller touch screen
Cabinet color standard
Furnace size: rotating tube furnace, heating zone 400mm
Power supply 220V, 50Hz, single-phase.
Power rate 5kW
Heating element Silicon molybdenum rod
Heating rate 0-20℃/min, 10℃/min is recommended
Thermocouple Type B
Temperature controller touch screen operation
Optional accessories 1. 1 set of flanges and connected pipe fittings and valves
2. 4 (or 4+8) sealing rings
3. 1 piece of variable-diameter quartz tube 80-120-80
4. Inner hexagon, one for flange and one for furnace.
5. One crucible hook and two furnace plugs
6. 1 corundum tube, spare silicon molybdenum rod, and a pair of high temperature gloves
7, 1 thermocouple
8. A set of exhaust gas scrubbers and connected hoses
Transaction process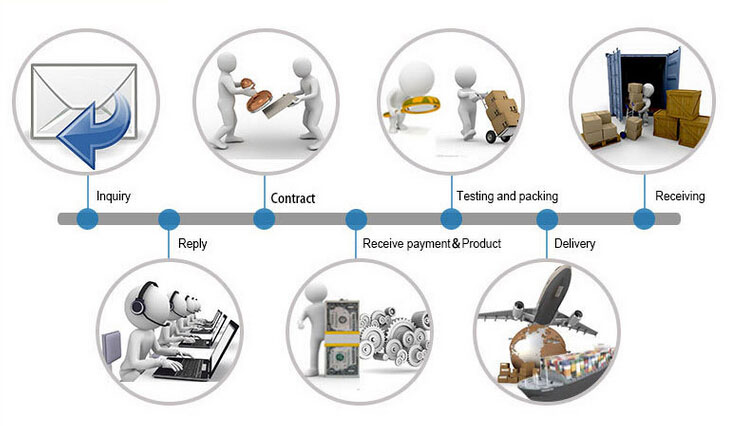 After-sales Service
1.We provide one year warranty for our equipment (Except the quick-wear part),Equipment damage or malfunction during the guarantee period due to equipment quality reasons, all be free maintenance.After the warranty expires, still offer lifetime and high quality service.
2.In case of failure in the process of equipment used, our company will make a deal as soon as possible, to ensure the normal operation of equipment.
3.Our company provide free equipment operation training and simple troubleshooting and maintenance training.
4.My company's technical staff can provide door-to-door service (product installation, debugging, maintenance, technical advice and instructions, etc.).
5.Our company provides transport services, packaging are carried out in accordance with the safety standard packing.Random complete technical data (user manual, maintenance manuals, relevant materials and accessories, random tools, etc.).
6.All the equipment has the CE certificate.
 Contact US