Descriptions of PECVD furnace:
PCVED by microwave or radio frequency make gas ionization containing film the constituent atoms,in a local plasma formation,and plasma chemical activity is very strong,is easy to react,sedimentary out the desired film on substrate,it widely used product high quality sio2 film,si3N4 film,diamond film,hard thin film,optical thin film and CNT etc.

Outstanding features of PECVD furnace :
1. Lower temperature processing compared to conventional CVD.
2. Film stress can be controlled by high/low frequency mixing techniques.
3. Control over stoichiometry via process conditions.
4. Offers a wide range of material deposition, including SiOx, SiNx, SiOxNy andAmorphous silicon (a-Si:H) deposition.



We have a wide range of different optional function furnace to meet different heating requirement, also we accept customer design furnace R&D working, please email us your specific requirement, we will recommend most reasonable choice for you, thanks!



Technical parameters of PECVD furnace :
Split Tube furnace

· Input power: 208 – 240V AC, 1.2kW
· 1200°C Max. working temperature for < 60 minutes
· 1100°C Max for continuous heating
· High purity quartz tube 2"OD x 1.7"ID x 39.4" Length
· 30 segments programmable precision digital temperature controller
· 8" (200mm), single zone. 2.3" (60mm)

Plasma RF Generator


· Output Power: 5 -500W adjustable with ± 1% stability
· RF frequency: 13.56 MHz ±0.005% stability
· Reflection Power: 200W max.
· Matching: Automatic
· RF Output Port: 50 Ω, N-type, female
· Noise: <50 dB.
· Cooling: Air cooling.
· Power : 208-240VAC, 50/60Hz


Anti-corrosive Pressure Gauge

· 3.8x10-5 to 1125 Torr measurement range
· Anti-corrosive, gas-type independent
· High accuracy and reproducibility at atmosphere for reliable
· atmospheric pressure detection
· Fast atmospheric detection eliminates waiting time and shortens
· process cycle
· Easy to exchange plug & play sensor element
· Click pic to view detal spec.
Mass Flow meters


· Four precision mass flow meters (0.02% accuracy)
· with digital display are installed on the bottom case to control gas
flow rate automatically.
· MFC 1: Gas flow range from 0~100 sccm
· MFC 2&3: Control range from 0~200 sccm
· MFC 4: Control range from 0~500 sccm
· One gas mixing tank is installed on bottom case with liquid release valve
· 4 stainless steel needle valves is installed on left side of bottom
case to control 4type gases mixing manually
· Gas inlet fitting: four 1/4NPS
· Gas outlet fitting: four 1/4NPS
Vacuum Pump


· AC 220V 50 Hz 1/2HP 375W
· 2 Liter /S or 120 liter/m
· Oil trap (inlet) and exhaust filter (outlet) are installed.

Warranty


One year limited warranty with lift time support (Consumable parts such
as processing tubes, o-rings and heating elements are not covered
by the warranty, please order the eplacement at related products below.)
The furnace can be customized according to customers' requirements.
PECVD furnace can be customized according to customers'requirements.
Transaction process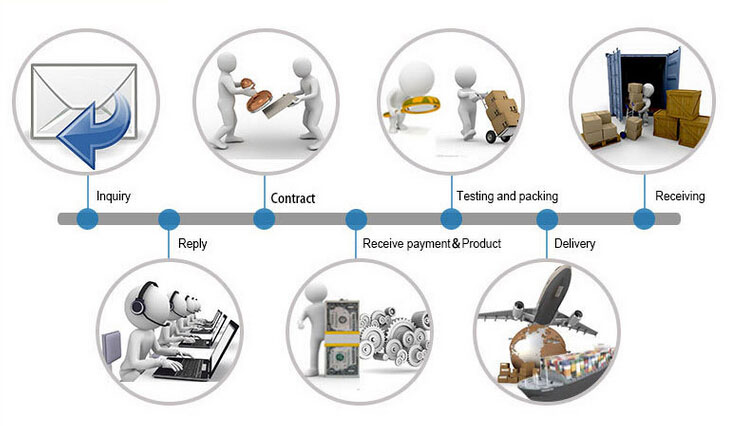 After-sales Service
1.We provide one year warranty for our equipment (Except the quick-wear part),Equipment damage or malfunction during the guarantee period due to equipment quality reasons, all be free maintenance.After the warranty expires, still offer lifetime and high quality service.
2.In case of failure in the process of equipment used, our company will make a deal as soon as possible, to ensure the normal operation of equipment.
3.Our company provide free equipment operation training and simple troubleshooting and maintenance training.
4.My company's technical staff can provide door-to-door service (product installation, debugging, maintenance, technical advice and instructions, etc.).
5.Our company provides transport services, packaging are carried out in accordance with the safety standard packing.Random complete technical data (user manual, maintenance manuals, relevant materials and accessories, random tools, etc.).
6.All the equipment has the CE certificate.
Contact US